The multi-stream processing plant handles ore containing tungsten, fluorite, bismuth and copper—so their slurry piping system has to be tough.
On the bismuth leach tank agitator line, they were previously using piping with a Chlorosulfonated Polyethylene (CSPE) liner, but it wasn't handling the acid and high temperatures well.
As you can see from these photos of the tank nozzles, the scale build-up was extreme after only 2 ½ weeks of service.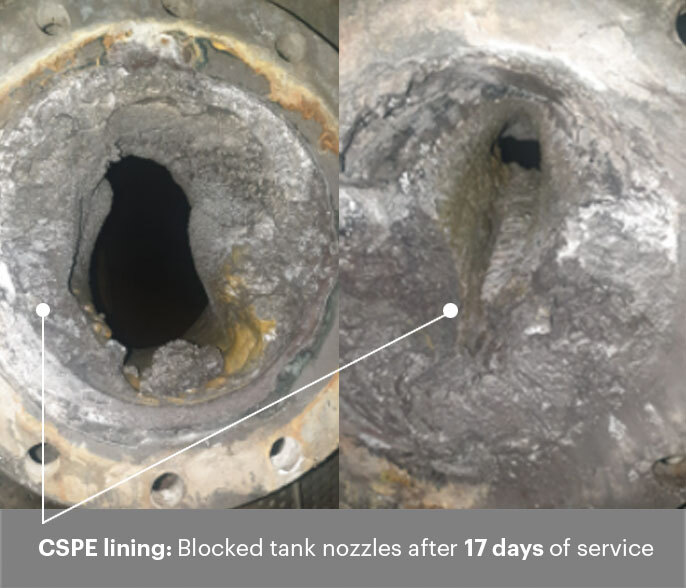 Containing sulphuric acid, bismuth ore slurry has significant corrosive and erosive qualities, so the line was taking a thrashing.
They had considered using HDPE from tank to tank, but decided against it because it wouldn't withstand the high temperatures.
Flexibility was also important. This ruled out ceramic-lined pipe as an option. This section of piping was previously made up of five different rigid spools, and we were able to replace all of them with one hose due to the flexibility.
The Nui Phao team decided to trial Slurryflex Hard-Wall Mining Hose with a custom ASR rubber liner to withstand the heat and acid. We custom manufactured the hose at our factory in Australia, and arranged expedited shipping to the mine site in Vietnam.
After inspection at the last shutdown, the new mining hose is performing well with 70% less build-up than before.
It's now one less thing the maintenance team have to worry about. They can focus on finding other efficiencies in the system that will improve their plant's maintenance scheduling and productivity.