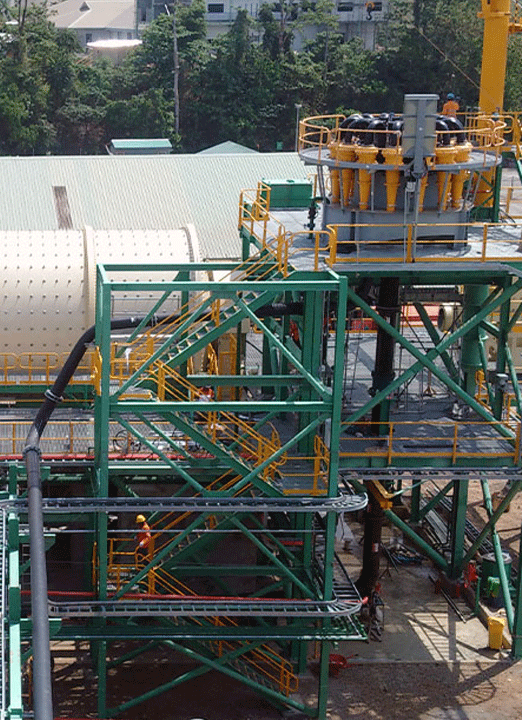 Long lead times create problems
Lihir gold mine in Papua New Guinea was about to embark on an expansion project to increase throughput. But a mix of long lead times and incorrect piping specifications was about to throw a huge spanner in the works.
The senior engineer needed to get the expansion work underway, but the piping coming from another supplier hadn't arrived. Even when it did, he was worried it wasn't going to last the distance.
In preparation for the expansion, the engineering team had trialled super duplex alloy piping in their operations. Early indications showed that this looked to be the right product, so the team went ahead and ordered the same piping for the expansion.
The problem was that it hadn't arrived and the deadline to start work was looming.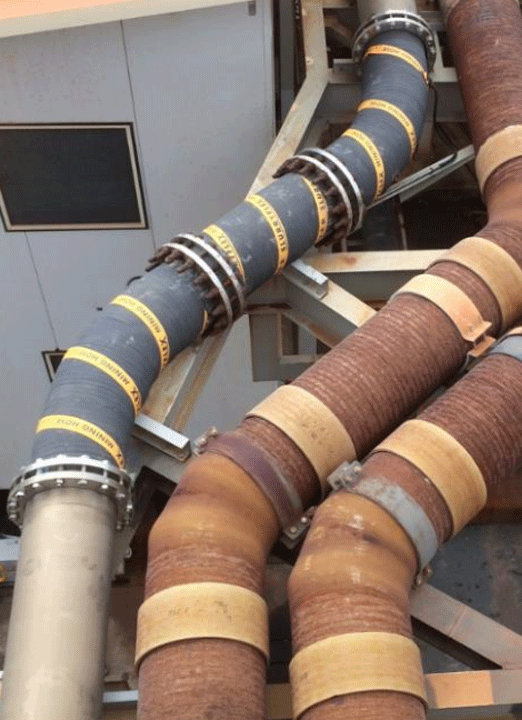 Custom lining for acidic slurry
The team then discovered an even bigger problem—sections of steel piping were starting to fail. It was transporting low pH slurry that was corroding the lining faster than anticipated, particularly on the pipe ends, flanges, and welds.
It was clear that the steel piping wasn't fit for purpose—lasting 3-4 months at best. And with reordering lead times of six months from another supplier, the team was facing a time consuming, complex, and costly maintenance program.
We worked with them to find a lining that could resist caustic and high temperature slurry. The Lihir team decided to trial Slurryflex Hard-Wall Mining Hose with a custom ASR rubber lining to withstand the heat and acid.
Here you can see the new Slurryflex hose installed on the left, with the old corroding super duplex piping on the right.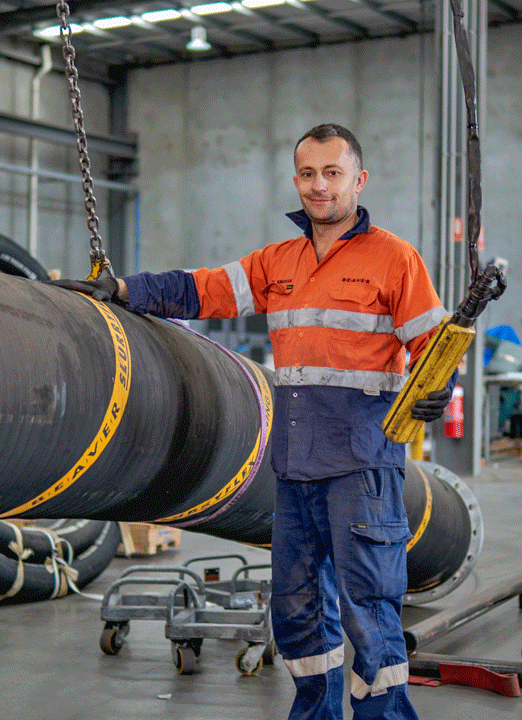 Getting the right spools for the job
The engineering team also found other benefits of using mining hose. They told us that they found it easier to install because it was more flexible compared to stainless steel piping.
Plus, Slurryflex is manufactured in Brisbane, so it only took five weeks to arrive on site.
More than two years on, the spools are still going strong with no leaks and minimal signs of wear, lasting 8x longer than the super duplex.
This is a relief to the senior engineer and his team. And they now have the knowledge to change the piping specifications in the rest of the plant.
Since then, we've worked with them to upgrade other relevant piping with Slurryflex mining hose.
We get a real satisfaction being able to help our customers make the right choices in their plant.
We know what it's like when the pressure's on to get the job done, so being able to help you when it matters is a win for us too.
Lifespan 8x longer than stainless steel
Turnaround time Delivered onsite in five weeks
Durability No leaks or wear in 2+ years
Efficiency No downtime or repairs